LOOKING BULLISH FOR GOLD
It now appears that the gold complex has successfully tested support. Gold held above $1305, the low for the year set on March 5th and above the psychologically important level of $1300. The GDX, the gold miners stock ETF, held above the December 2017 low of $21.25. No new lows support the potential for an upturn. Gold closed up $33 for the week at $1349.90, well above its 50 day moving average at $1331.
Last week, gold broke through its downtrend line against stocks as demonstrated in the below weekly chart of the ratio of gold to the S&P500. In our view, gold in a bull market has to outperform the stock market. It's early, but this breakout above the blue downtrend line looks promising.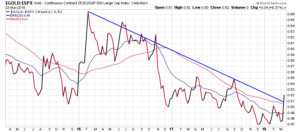 This breakout could be sustained if the S&P breaks down further this week. The S&P closed pretty much on their lows last Friday and just seven points above the February 8th low of 2581, as highlighted in the below daily chart of the index with the blue line marking the low for the year. Could a new low bring a deeper correction into play?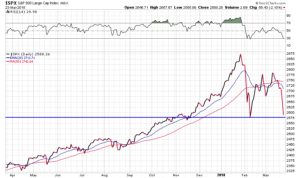 This coming Thursday is the last trading day of the month, which raises an interesting possibility. On a monthly basis, gold has established a string of higher lows since it bottomed in December 2015. The closing monthly high for gold since the 2015 bottom is $1358, just eight dollars above last Friday's close. Closing above $1358 at week's end could help to establish that gold has in fact entered a new bull phase. Here is the three year monthly chart for gold.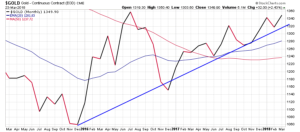 One final fact to consider. If you remember how the 2008 financial crisis unfolded, one of the key signals was the soaring TED spread…the spread between the risk free T-Bill interest rate and the overnight rate charged to corporate borrowers in the Eurodollar market. Essentially, this is a measure of the credit risk in the private lending market. Since mid-February of this year, the TED spread has skyrocketed higher. Something is amiss in the credit markets. Perhaps it is as simple as a lack of liquidity as US corporations take money out of money market instruments in order to repatriate funds under the new tax laws. Or could it be that increased Treasury issuance and Federal Reserve Quantitative Tightening (sales of assets) are crowding out the private sector? Whatever the explanation, it suggests another reason to opt for the safety of gold.