GETTING BULLISH ON GOLD
Gold is up nine of the last 12 Januaries with an average gain of over 4% and the trend has continued in 2018 with gold reaching an intraday high of $1327 so far this year. From December 19 of last year, gold rose 10 trading days in a row. Is this another rally destined to disappoint investors or the resumption of the gold bull market?
To make a reliable bullish case, gold must first break decisively over $1360 (the 2017 high) and then $1375 (the 2016 high). So, the question can't be answered yet. But there are some encouraging signs. Gold posted a 14% gain in 2017, its best annual increase since 2010. In mid-December 2015, gold bottomed at $1,051 per ounce. In mid-December 2016, it bottomed at $1,128 per ounce. For 2017, the bottom was on January 3 at $1162. That's a trend of "higher lows" which is a solid indicator of a turn in the market.
Breaking out above the July 2016 high of about $1,370 per ounce would generate a "higher high", a strong sign to us that gold is in a new long-term uptrend. What would lead to such a breakout? One strong possibility is heightened concern about higher interest rates. Historically, higher long term rates have correlated well with higher gold prices.
The yields on US Treasuries have recently broken out above an extended trading range. Here is the chart showing yields on the 10 year Treasury note for the last six months.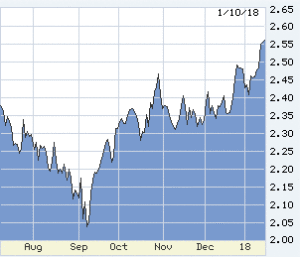 Rising yields are typically an early sign of increasing investor concerns about inflation. Are there any other signs of inflation in the financial system? Why, yes there are. Commodity indices are breaking out to new 52-week highs. The dollar remains weak. Base metal miners are making new 52-week highs again today (XME, COPX, etc).
Below is a three year daily chart of the XME. Note the big move up since last November: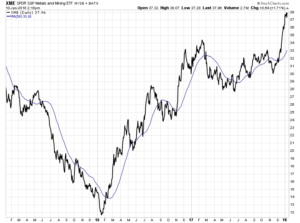 Perhaps it's only a matter of time until the gold mining stocks join the inflationary party?